From ESPN Sports
. Enzo is a 2009 Northwestern High School Graduate and 4 time South Carolina Player of the year.
Enzo Martinez powers Carolina soccer
The feeling of national pride swelled this summer at a Uruguayan restaurant that had recently opened in Charlotte, N.C. People would come in to view World Cup soccer games on television, and it's obvious which country they were crazy about.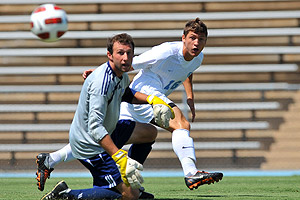 Jeff Camarti/UNC Athletic CommunicationsEnzo Martinez and North Carolina are focused on a return trip to the College Cup.
"I'm so lucky to be alive to see this," North Carolina soccer star Enzo Martinez said of his native Uruguay, the World Cup winner in 1930 and 1950, making the semifinals for the first time since 1970. "It was amazing. The most beautiful thing about this World Cup was being at this restaurant, where we went to watch all the games. It was packed with Uruguayans, and it made it a lot of fun to see the passion we have for the game."
That you can hear so much emotion in Martinez's voice talking about watchingsoccer, you can imagine how much of his heart is invested in playing it.
And that's something the 5-foot-7 forward is doing very well for the No. 3-ranked Tar Heels. A sophomore, Martinez is the leading scorer for North Carolina with five goals and two assists so far this season. As the Tar Heels head into another big ACC matchup Friday, at No. 18 Boston College, and then a regional rivalry game at home with No. 20 South Carolina on Tuesday, Martinez and his teammates are doing their part to bring happier sports news to Chapel Hill this fall.
With the agent scandal, players becoming ineligible or getting dismissed, and academic violations being investigated, North Carolina football unfortunately has been plagued by the toxins of college sports. But … Carolina futbol has been an antidote.
The Tar Heels (9-2-0) are seeking their third consecutive College Cup appearance. They'll have to do it without their top two attackers from last year. Billy Schuler (shoulder) and Cameron Brown (knee), who combined for 14 goals and eight assists in 2009, have been out all season with injuries.
Midfielder Stephen McCarthy joined them on the sidelines Tuesday when he suffered a broken cheekbone in a victory at Liberty. He's expected to miss about a month.
"We had to manipulate our lineup already, and with Stephen out, we're running a little bit thin now," UNC coach Elmar Bolowich said. "It will be interesting to see how we will do in these next two games. If we prevail, we are looking pretty good and strong for the postseason. If we take some hits here in the next few weeks, we have to dig deep and salvage the end of our season, still."
Upperclassmen Michael Farfan, Kirk Urso, Eddie Ababio, Dustin McCarty, Jalil Anibaba and Drew McKinnney all have to carry a little extra weight without Schuler, Brown and McCarthy on the field. And the same goes for second-year player Martinez, who appeared in all 22 matches as a freshman last season out of Rock Hill, S.C.
Martinez spurred Northwestern High to three South Carolina state titles, and he is the career leader in goals among boys' prep players in that state, with 182. Recruited by everybody, Martinez stayed close to the place that had become home for him, his parents and two siblings when they moved from Montevideo, Uruguay, when Enzo was in grade school. Rock Hill is just south of Charlotte, N.C.
Martinez, a high school honors student who scored 1250 on his SAT, chose UNC for its academics and the strength of the soccer program.
Certainly, though, he has many connections with South Carolina's team -- one of his best friends is his former high school teammate, Gamecocks junior Vance Benson -- so Tuesday's matchup in Chapel Hill will have a special emotional resonance for him.
Jeff Camarti/UNC Athletic CommunicationsWith UNC's roster ravaged by injuries, the pressure is on Martinez to deliver.
"I am looking forward to that game to see my friends on that team and to play against them," Martinez said. "I'm very excited for that."
He also knows the Gamecocks are dangerous; they upset then-No. 5 Tulsa on the road Saturday. The Tar Heels' two losses this season came at home to the top-ranked team in the nation, Akron, and to Old Dominion. The 3-0 loss to the Zips on Sept. 3 had a particular sting since Akron defeated the Heels in last year's national semifinals. That match ended scoreless and then was decided 5-4 on penalty kicks.
"I remember I had a chance last year, and if I would have put that away …" Martinez said. "But that was last year, and hopefully this year we can come home with the trophy."
Bolowich, in his 21st season leading the program, has a 273-142-36 career record and won the NCAA title in 2001. During his two decades as the Tar Heels' coach, Bolowich -- a native of Germany -- has seen the individual skills of high school players in the United States improve dramatically.
But while there is more talent to recruit than there used to be, there is also more competition. Not just from the increased number of strong college programs, but also from MLS, which goes after the top prep players, too.
It makes the Tar Heels' success in the past decade -- they've made it at least as far as the NCAA quarterfinals five times in the past 10 years -- an especially notable achievement.
"Our goal was to maintain our position as a top-10 team year in and year out," Bolowich said. "Our staff has kept together, and that's allowed us to keep continuity with our recruiting. There are more very good players in this country now. If you look at a top-level youth game now, you really won't find any bad players anymore on the field. And that wasn't the case maybe 15 years ago.
"The talent level used to be really spread out, but the gaps have been closing. You see a broad-based player pool to draw from. What helps us is the attraction of the Atlantic Coast Conference, which always has some of the top teams in the country. The very best talents, though, are also the ones that MLS tries to attract earlier. So when you recruit, you have to hit the nail on the head."
The Tar Heels did that with Martinez.
Mechelle Voepel is a columnist for ESPN.com. She can be reached at mvoepel123@yahoo.com.