From
the guardian
:
Two hours' homework a night linked to better school results
Any time spent on homework shows benefits, according to study published by Department for Education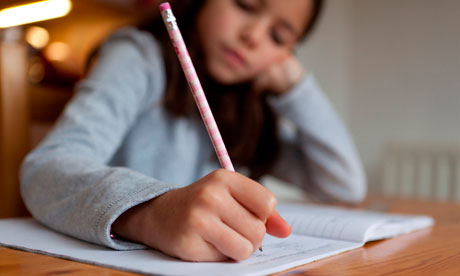 Spending more than two hours a night doing homework is linked to achieving better results in English, maths and science, according to a major study which has tracked the progress of 3,000 children over the past 15 years.
The academics involved in the latest research say their study emphasises what students actually do, rather than how much work the school has set.
Sammons said: "That's one of the reasons Indian and Chinese children do better. They tend to put more time in. It's to do with your effort as well as your ability.
The study controlled for social class, and whether pupils had a quiet place in which to do their homework, but still found a benefit, Sammons said.
The research was conducted by academics from the Institute of Education, Oxford and Birkbeck College, part of the university of London. It has tracked around 3,000 children from pre-school to the age of 14.
It also finds that students who reported that they enjoyed school got better results. "This is in contrast to findings during primary school where 'enjoyment of school' was not related to academic attainment," researchers said.
Schools could ensure children had a better experience by improving the "behavioural climate", making schoolwork interesting and making children feel supported by teachers, Sammons said.
The research shows that working-class parents can help their children succeed "against the odds" by having high aspirations for them.
Children who did well from disadvantaged backgrounds were backed by parents who valued learning and encouraged extra-curricular activities. "Parents' own resilience in the face of hardship provided a role model for their children's efforts," the research says.
The study underlines the importance of a good primary school. Children who attended an "academically effective" primary school did better at maths and science in later life. The study did not find a link with performance in English.
Under the last government, guidance was issued to all schools recommending they have a policy on homework.
The guidelines suggested children aged five to seven should be set an hour a week, rising to half an hour a night for seven- to 11-year-olds. Secondary schools were encouraged to set up to two and a half hours a night for children aged 14-16.
Scrapping the guidelines frees headteachers to set their own homework policy, the government says.